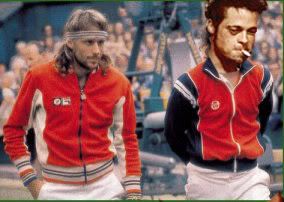 <SPOILERALERT> This post discloses plot details from David Fincher's Fight Club (1999). If you haven't seen Fight Club in the ten years since then, give yourself a cock punch. </SPOILERALERT>
Can we apply Fight Club's plot twist that Tyler Duden is merely a macho, sexy figment of Ed Norton's narrator character's imagination to sport? It works with Calvin and Hobbes and Cameron and Ferris, after all. Yes we can, here's a top five.
5. Matthew Hayden is a figment of Justin Langer's imagination.
Matthew Hayden scared the shit out of world Cricket by standing two metres outside his crease, flogging attacks with his swagger, self-righteous Christianity based verbal abuse, and those brutal forearms that could take an eye out. If you were an opposing bowler, seeing that maniacal light in his eyes was far, far scarier than seeing the headlight of an approaching freight train while trying to get your stalled car off the track. Langer got lots of runs, too, but no-one ever noticed.
4. Tiger Woods is a figment of Phil Mickleson's imagination
Poor old lefty. Phil's stellar amateur career pointed to triumphs in a whole lot of Majors before happily retiring with the world's biggest bag of Nacho Chips. Then along came Tiger, more force of nature than golfer, who grimly went about winning TRUCKLOADS of Majors, doing amazing shit, filming ever more self-reverential ads, getting bored and reinventing his swing every couple of years, and turning the air blue.  He made Phil wear a "Best player to have never won a major' baggy sweatshirt until, agonisingly, 2004, when Mickleson eventually nailed the Masters. Phil and his alter ego really don't get along, meaning Phil has spent the last decade looking ever more pissed off and whiny. Hilariously for everyone else, the pair are often forced to play together in tournaments and the Ryder Cup, where the atmosphere on the tee turns more icy than Hoth.
3. David Beckham is a figment of Gary Neville's imagination.
Gary 'n' Dave were key members of Ferguson's golden generation, the ever so reliable right back and the rock star winger who announced himself with a wonder goal and wasted no time marrying a Spice Girl. Beckham's England captaincy, the falling out with Ferguson, the move to Madrid and the haircuts were all covered to death and made him Football's biggest name, at least off the field. Meanwhile, Gary kept his head down, tided up neatly behind Becks on the right, and just got on with it. Still, deep down Gary was intense, wild (watch this til the end) and scary intense; when he snapped, he was terrifying, frankly.
2. Carlos Spencer is a figment of Andrew Merthens' imagination.
You can tell by the haircuts. While Carlos rolled out ever-more-bizarre combinations of curls, bleach and goatees throughout his career like a some kind of NPC Cher, Merthens played it straight down the middle with short back and sides every time, the kind of thing that befits an ex-private schoolboy  and future Prime Minister. Merths used to run, but soon settled in to the role of All Blacks' quarterback, doing the accurate passing and pinpoint kicking basics so well he mostly wound up getting picked. And winning, especially with the Crusaders. Up in the big smoke Carlos was pure rock and roll, strutting around Eden Park like Prince on his motorbike in Purple Rain, or Kiss' Gene Simmons, with wipers kicks, netball passes and banana poppers*.  He'd have been right at home in the Harlem Globetrotters. Both wound up messing up a decent shot at a World Cup for New Zealand.
1. John McEnroe is a figment of Bjorn Borg's imagination.
The Ice-Borg's baseline game, with all the flair of a garage door, won him a record breaking number of Wimbledon titles, while his aloof, oh-so-European temperament had the mysterious, intriguing allure of a sort of demure Swedish Zorro. New Yorker McEnroe didn't give a fuck about any of that and smashed his way into world Tennis intent on winning Majors and yelling very loudly. Borg and McEnroe's careers only really crossed paths for three years; they first played in a semi final in 1978, and Bjorn's defeat to McEnroe in the 1981 US Open ended his career; Borg left the stadium immediately after the loss, not bothering to stay for the ceremony and press conference. Mac had broken him – his serve and volley game, based on superb touch, was the antitheses of the Swede's metronome-like style. Poor old Bjorn realised he had to get out of the way of this big sweary freight train that was busy grabbing Tennis by the nuts and squeezing. Hard.
*I made that up.