---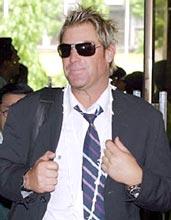 I've played cricket with loads of guys that would pitch up just as the van was pulling out out the drive, reeking of smoke and beer, filling you in on last night's adventures through mouthfuls of pie – and that's Shane Warne. Just yer average bloke, but one good enough to play test cricket and be one of Wisden's top five players of last century.
An Australian, and a Victorian to the core, he was forced to choose between Aussie Rules or Cricket careers early on, we were lucky he even chose the summer game at all – I suspect it was becuase there's less fitness work (and let's face it, cricket is not bad for playing on a hangover – depending on the toss, you've got a good chance of sitting in a darkened pavillion anyway). Warne drinks, smokes, eats shitty food, likes to bet, and has big problems keeping little Warney out of trouble. The game never changed him, but he changed it alright.
As Graham Thorpe observed last year in comparing the Australian with his statistical shadow Muttiah Muralitharan: "Warne was always varying the degree he spun the ball, while Murali generally just tried to spin the ball as much as he could." – Gideon Haigh in the Guardian
It's a shame that Warne won't get to hold the world record for years and years as he deserves to – I could watch him bowl for five days. Of course his legend is such that his mere presence freaks batsmen out these days, just ask Cullinan or Craig MacMillian. The master sledger, Warne was always on form, always mesmerising, always dangerous. If the Aussies' opposition were bowling first, you sensed they were pretty much poked, as Warne would get to bowl last on a cut up pitch – but at least you'd get to watch him do it.
I first heard of leg spin bowling as a young fella by reading about it in one of boring old Geoff Boycott's books, but had never seen anyone actually do it in the flesh. Go down to the beach or park later, and see how many kids are bowling leg spin now – Cricket's never going to be the same.