Ever meet a famous sportsperson? Did Marty Crowe ever bash your ankle with a supermarket trolley? Been to a funeral with Keith Quinn? Do you and John Mitchell share a barber? Got a photo of yourself and the Mad Butcher?
sportreview.net.nz wants to hear about it. Let's build New Zealand's most comprehensive database of sporting stalking.
To get involved, just email [richard (at) sportreview dot net dot nz] the following information about your brush with fame:
Target: (your mark)
Stalker: (your name, and your website if you've got one)
When: (The year will do)
Where: (Pub, carpark, place of work, whereever)
Details: (Tell us your story, in as much and as little detail as you like. Make us laugh)
You get BIG bonus points if you have a photo – get them in
Anything goes – sports men, women, administrators, Kiwis, overseas stars, what ever. While we want it sports-based, if you called Hugh Grant a wanker one time, send it in. I might even tell my Nick Hornby story
Questions / problems, let me know, I'm happy to change names to protect the innocent
I'll publish anything I get here, and work out the best way to organise them as we go
---
A special Rugby World Cup 2011 stalk here with bonus Beaver (YAY!), submitted by DJ Nelly.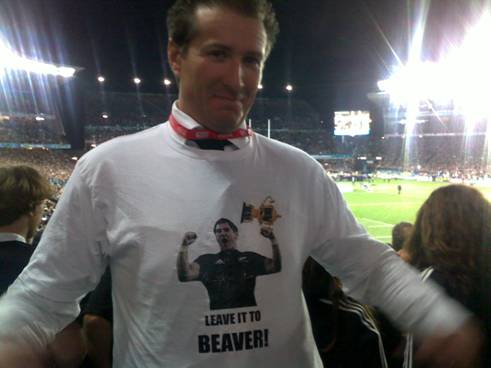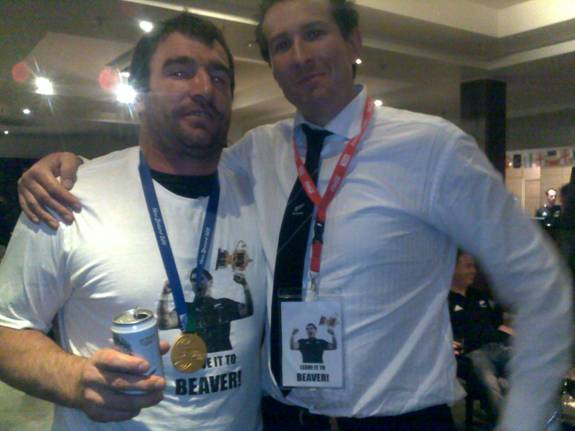 From submitter's email:I heartily accept all of your apologies (even those that haven't given them to Jase and I yet J) for all of the bad things you ever said about Donald.

Couldn't have scripted it any better – turns out our t-shirts we had made to wear to work on Friday were a massive hit when we pulled them out at the game… no one could believe it!!

Only problem is I don't have mine anymore – but what do you say when I bloke wearing a medal says to you "bro I NEED that shirt!"
---
Father and son black caps – here's Chris in action.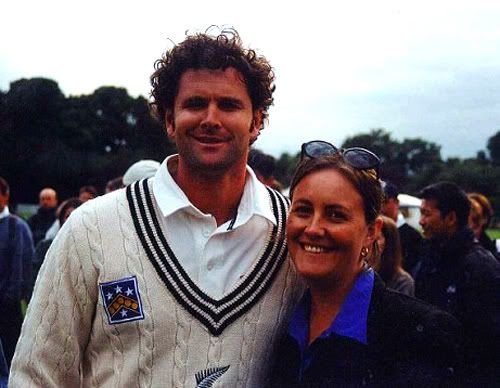 Jane with Cairns junior


Jane with Cairns senior enjoying a warm beer


Jane with Dermott Reeve and Chris Lewis, two ex-cricketers with white line problems


One for the laydeez
Stalkers: Jane & Angus
When: 2000
Where: Chris Cairns' testimonial match, Datchet, UK
Details: Chris Cairns held a testimonial match at a tiny club cricket ground at Datchet (near Windsor). It was the quintessential village cricket green – picket fence and all. The match was Chris Cairns XI v Lance Cairns XI and featured Chris Harris, Nathan Astle, Glen McGrath, former England player Chris Lewis (currently on charges of smuggling 200,000 quid's worth of cocaine into the UK) amongst others, with the numbers made up by Datchet club players. A thoroughly enjoyable day (with the small boundaries encouraging plenty of big hits) which turned into a village BBQ complete with West Indian steel band, which turned into drinks in the pavilion, and more drinks, and a lot of drunk Kiwis on the last train back to London…. But not before Chris pleased the locals (and the ladies) with a shirtless haka!
---
Greatest All Black ever – here he is in action.
Stalker: Richard, sportreview.net.nz
When: 2002
Where: Muddy Farmer pub, downtown Auckland. The loo, to be precise
Details: I was having a few quiets late one Friday night, when I spied an array of then-All Black coaches and administrators regularly wobbling past our table. John Mitchell. Jock Hobbs. Colin Meads. The Hurricanes had played the Blues that night at Eden Park, and those guys were getting stuck in.
I kind of forgot all about them until I went for a slash and came around the corner into the urinals and nearly bounced off this man-mountain coming the other way. I looked up and saw the most tremendous eyebrows. I can't stress this point enough – as someone often accused of being well brow-endowed, I was impressed. Colin makes Graham Henry look like Kate Moss. The brows belonged to non other than Colin Meads, the man, the legend, etc. He was bloody huge. I had to say something.
Me – "Can I shake your hand?"
Colin Meads – "OK"
*shakes hand*
Me – "Having a big night?"
Colin Meads – "Big night… *significant pause* ….ah ha. Biiiiiiiig night."
And that's it. I doubt he'd remember me. On reflection, I'd have preferred to meet our greatest in somewhere other than a pub toilet. Still, you have to seize the day, right?
---
Charisma-free opening batsman – here he is in action.
Stalker: Jrod, Cricket With Balls
When: Many a year ago
Where: Melbourne
Details: Many a year ago I was working in a call centre.
At 2am in the morning I received a call, I went into robot mode and answered.
At the other end of the line I heard.
"Hi I'm Damien Martyn".
"How can I help you Mr Martyn?"
"Yeah Damien Martyn, the cricketer".
"Ok Mr Martyn, how can I help you?"
"Oh I just wanna change my flight".
"Do you have any of your flight details?"
"I don't know, um Melbourne to Sydney tomorrow arvo".
"What time?"
"I don't know mate, can't you find it?"
"I just need more details Mr Martyn".
"Oh shit, look, I'll call back".
Two minutes later I get a call from a Cricket Australia official.
"Hi there, (yawn) just calling up to change a flight for Damien Martyn, Melbourne to Sydney at 1430 this afternoon".
---
Underwear model and world's best First Five – here he is in action.
Stalker: Yana
When: 2008
Where: Wellington, NZ
Details: I was in Welly with a couple of mates about to meet the All Blacks last year for the first time, and I am a HUGE fan and was totally excited! It was their first signing of the year and I had an AB jersey ready! After an enthralling ride down there first time driving to Welly… and getting lost and also having to call an ambulance and help when a lovely Greek lady crashed right in front of us (she was in shock but fine) the day was off to a great start.
I txted my brother to skite about meeting the ABs 10mins before they arrived he asked me how I was managing to meet the ABs. I joked and said me and Carter were a thing didn't you know lol
I got a very unusual text back saying "thats gross! hes ur cousin!"
I rung him straight away to confirm he wasn't joking… and it did look possible as my whole Grans' side of my family are carters.
So when Carter rocked on up I asked him to sign my jersey and politely said he wouldn't believe me but I'm a cousin… He said oh yeah, what side of the family (prob thinking I was full of shit) and I told him. He listened patiently and thought about it and said oh yeah (in a oh yup that side of the farm voice). I was thrilled! I also got sum great photos with the ABs that night.
I later checked the family tree, still thinking it couldn't be, but nope their it was, we ARE cousins, very surreal day, and its still brought up a bit, I've even signed someones' arm… weird!
---
Hard bastard centre – here he is in action.
Stalker: Farley
When: ca 1996
Where: Hamilton
Details: A group of us who had stayed in the same Hall of Residence had been out on the lash. One member of the group was Miriama Smith who, at the time, was seeing Frank Bunce. After the night out, we got back to the flat where a couple of the girls resided to drink some more. Miriama had gone inside to shower n stuff and left her phone on the table where a group of us were still imbibing. The phone rang, I picked it up, and the conversation went like this:
Me: Kia ora
Caller: Who's this?
Me: Who's this?
Caller: Frank
Me: Frank who?
Frank: (annoyed) Frank Bunce, who's the hell is this?
Me: Bullsh*t!! Frank Bunce?!?
Frank Bunce: (more annoyed) Look, who the hell are you?!? Where is Miriama??
Me: oh…um…she's just got in the shower
Frank Bunce: (livid) What!?!?
Me: yeah, we've had a long night…she wanted to freshen up
Frank Bunce:
Me: any message Frank?
Frank Bunce: (…dialtone…)
I think Frank may have gotten the wrong idea.
---
Miniature Welsh golfer – here he is in action with Mrs Doubtfire.
Stalker: Andrew, Auckland Cheap Easts Reviews
When: 1982/3
Where: Straphanging on the longterm carpark bus Gatwick Airport, returning from the Algarve in Portugal.
Details: A rather young Ian Woosnam was next to me so I said "did you have a good tournament?" and he looked straight through me. Then about 30 seconds later he said "sorry were you talking to me" to which I said yes and he apologised for ignoring me and said that he didn't think I'd been speaking to him as that was "the first time anyone had recognised me away from the golf course!"
---
Bad tempered striker – here he is in action.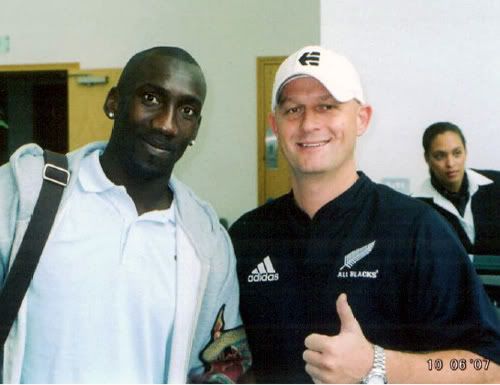 Stalker: Mark
When: 6 October 2007
Where: Hotel which Cardiff City put Jimmy up in when he could be arsed playing for them.
Details: Very excited to get a photo with a blinged up Jimmy Floyd  (that's a Chinese dragon on his jacket – with diamonds for eyes!).
Later that day we lost to France in the Quarter final of the 2007 WC, que sera sera.
---
England Captain and pundit – here he is in action.
Stalker: Chris Skinner, er, no website
When: 2007ish
Where:The kitchen at work.
Details: OMG IT WAS AMAZING! Never, never have I had a more amazing stalktastic time! Michael 'Mike' Atherton came down the stairs at work. I don't play for Lancashire CCC, I am not Saj Mahmood! I work in an office! He was there to do a radio interview about his book, and it was about gambling, and I was like OMG – Mike Atherton is here! Double ROFL! Anyway, there I was making tea and he looked me in the eye. It was the same look he gave Alan Donald when Donald was beating him senseless with a ball and not getting him out at all in that rad way that people talk about. So, right, he said 'er, where are the toilets?' This was my chance – my chance to talk to a real ledge! So I went right up to him, I must have been right in his face 6 feet away and said 'er, over there', I even pointed and looked that way. He left, I left, we never spoke again, but I know I saved him from pissing himself! There was totally no on else in the kitchen area!! ROFL!
---
Legendary West Indian strokemaker – here he is in action.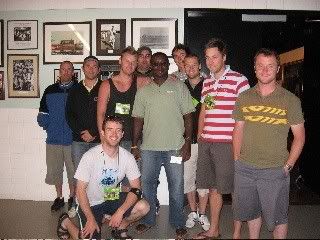 Stalker: The Entertainers Cricket Club
When: Feb 2007
Where: MCG Cricket Museum
Details: The Entertainers CC were on a small tour of Straya and were booked to tour the 'G'. We had been reamed by Melbourne's Croydon CC, and had also just witnessed Oz chase down NZ's 290 in the CB series. Spirits were down. The tour finished at the MCG museum which is quite cool, if you are a cricket nerd. We were just about to leave when a couple were lead into the museum by MCG staff who were mistaking themselves for Secret Service agents. We quickly realised that the male in the couple was, in fact, former West Indian captain RB Richardson. We approached the group seeking autographs and photos and the like, only to be blocked by the MCG staffers and asked to leave the couple alone. So pre-emptive was the rejection that Richie had not even seen that we were approaching. We were convinced that Richie would take a bit of time for us if we could get past the guards. So, we devised a military style operation to distract the guards on two fronts and approach Richie directly from a third. Much to the MCG staffers' ire, the plan worked and Richie happily signed things and posed for the attached photo. Apologies for the photo being so small, but we are much better at military style stalking than uploading photos.
---
Underarm bowler – here he is in action.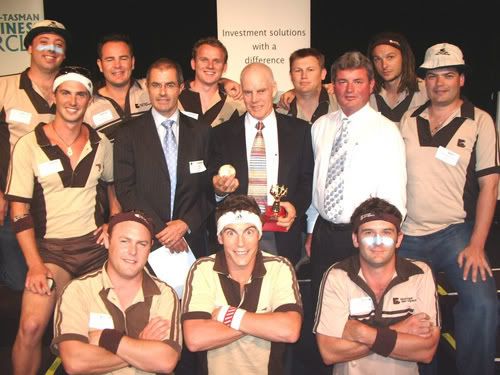 Stalker: Paul & Mike, www.beigebrigade.co.nz
When: February 2006
Where: Casino
Details: We went along to a posh corporate lunch, standing out slightly as the only ones wearing Stubbies, flannel, beige and jandals – and not wearing ties or suits. We were ready to hate Trevor Chappell – the maggot who bowled the underarm ball to McKechnie and so on.
Yet in person he was the nicest bloke you could ever hope to meet – he signed autographs, tolerated our increasingly alcohol-inspired ribbing, and was one of the last to leave the after-match function. He even flicked us his business card and invited us to get in touch if we were ever in Sydney with some time to kill as he would tee up a match between the Beige Brigade and the First XI side that he coaches over there.