This post has been has been in my drafts folder for an embarrassingly long period of time. So here goes, this will probably be the world's last Cricket World Cup roundup published, a record sportreview.net.nz is 'pretty comfortable' with.
You don't need me to tell you the tournament was more feel-good than the kids from Stand By Me taking on Alien and taking the big ugly down. I was working as Digital Manager for New Zealand Cricket during the cup and got to to to the opener in Christchurch, some of the pool play matches and the three knockout matches. Here's how it went for me:

Sri Lanka
Christchurch was all nerves. Could we carry on the form from home series when it really counted? Would Malinga come back and mess us up? No, as it turns out. It was comprehensive stuff on a feckin freezing day, in front of a boisterous crowd, who took the 'best streakers' trophy at a canter from the outset.
Later in the tournament when the talk was of us not batting first and setting a total, I was thinking of this match, when we did just that – just the casual 330 odd.
Even though this was us v Sri Lanka at Hagley, it felt very different to the previous matches, with the ICC roadshow underway – the coverage was different, as were the advertising hoardings and extremely sponsor heavy entertainment. The big show had arrived.

The match had been sold out for months, and people turned out in droves for the opening ceremony on a magnificent Thursday summer's evening. I know it's easy for me to say, breezing in and out for a few days, but I thought Christchurch was lovely, the gaping holes in the middle of town aside. Everyone I met was very excited about the tournament and what it meant for their city. Marvelous.
Uncharitably, on tournament eve I had the pleasure of watching the Crusaders losing their opener to the Rebels in a suburban bar and watching three quarters of the people walk out on the final whistle, but you'll remember I am not a very nice person.
England
I wasn't there, but holy crap. After England's pretty reasonable start, Tim Southee just broke them and pretty much ended their tournament. Those inswingers that threaten to collect stumps he bowls every match, did. Again and again. Then Brendon McCullum laid down a marker for the rest of the tournament, seemingly intent on re-modelling the Cake Tin with the ball. It was absolute carnage and it was over in a flash, apart from the world's most awkward tea break. Brilliant.

Serious press pack for the Aussie match.
Australia
This was a Big Week. All the Aussie media you'd been reading for years were suddenly alongside you watching the net sessions. The big guys had come to town, and my god Eden Park was up for it. If you've ever been to a rugby match there, imagine that only heaps, heaps louder. Tim, then Dan, then Trent took them down big time, and a new generation of Australian cricketers were warmly welcomed into New Zealand's comedy villain hall of fame alongside Greg Chappell, Greg Matthews, various Waughs, various Shanes, etc.

Those guys leaning over the barrier did their national duty by giving Mitch Johnson comprehensive verbal arseholes.
Then we batted, and there were a few lows. The first was McCullum getting whacked in the arm, halting his steady dismantling of their attack. The second was when we started losing wickets. The third was when we kept losing wickets. My view in the stand* was directly behind Starc's arm and I can tell you he was swinging it shitloads, to use the technical term, in the warm-ups, god only knows how he was to face in the match. Anyway, Boult and Williamson's pep talk when Trent got out there has been well documented and you know how the match ended. Seriously, I could hardly type, my fingers were shaking that much.
No I'm not a major fan of music at the cricket, but between the winning roar and the presentations, they played Boston's More Than A Feeling, one of my favourite ever songs, as the sky started to turn a deep red out to the west. Haven't felt a sport-related warm glow like that in a while.
And – this was my partner's first game of live cricket. Imagine that!
Bangladesh
This was the first time I'd worked at a BLACKCAPS match from Seddon Park in my NZC role, somehow I'd managed to not get just down the road yet. It's a fantastic venue, still my favourite in New Zealand, the hipster boutique ground who got there before everyone else.

Seddon Park. Lovely.
This match will be remembered for Guptill's hard-fought ton, Southee smacking the winning runs high onto the bank, those fecking flying death bugs, but probably most of all, Brendon's hail mary dive into the fence to try and save four. It racked up 300K odd views by the time the match had ended and is still the second most viewed video on the CWC15 site. Just FYI those video screens are covered in little light covers that are actually reasonably sharp, that would have really hurt, team.
The Alternative Commentary Collective's call this day was one of their finest, off the back of the killjoy ban from the ground. I forget whether they were on the mushies or the buckies this day, but whatever it was, it worked.
West Indies
The team described this as the toughest match, mentally, one we were expected to win against a fairly unpredictable opposition. We needn't have worried – Guptill's 237 is the most destructive thing I've seen since Keith Robinson.
It's funny looking back how on the edge we were, midway through the first innings people were questioning the scoring rate and saying we had to hit out, or we'd miss out. That turned out to be bollocks. Guptill's innings, and our total, were colossal and despite some West Indian flurries, we did it comfortably. See you in Auckland, then.
There's some fair competition of moment of the tournament, but Dan's catch is pretty up there for me. When you think about what he'd done to get himself back, the phenomenal shape he was in that allowed him to leap like that, and land like that, you have to hand it to him. Watch the clip again, see how delighted his team mates are for him.


This is the chap sent up on the stadium roof to retrieve Martin Guptill's six.
The last time I saw us play South Africa at Eden Park was back in 1992, when Greatbach smacked one onto the old grandstand's roof. The chaps from that campaign went from one end of the country to the other repeatedly to promote this tournament, but now we were here, it was all about going one better, really. Personally, I was shitting myself we were going to get Pakistan and that I Wouldn't Be Able To Handle It, but South Africa it was, complete with de Villiers, Amla and Steyn. Ahem.
The match started in one of the weirdest atmospheres I'd experienced. Not only was the packed-in crowd slightly subdued (it's harder to sledge the South Africans than the Aussies, especially when they were dominating us), and the weather appeared to be hosing down literally everywhere in Auckland but Eden Park, teasing us relentlessly before it finally arrived.
After McCullum's assault, where he knocked Steyn out of the attack, it settled into the tense run chase to end all run chases. I was watching Twitter and seeing folks talk about their hearts beating fast – mine wasn't I just felt a bit circumspect. When you're working during the match you're kind of concentrating on doing your job, with a little bit of work-wise 'what if we win / what if we lose' in the background. Your inner fan kind of gets pushed right down, suppressed deep inside. Well, that inner fan came back at me big time with two overs to go, when the pit of my stomach fell out completely. My hands were shaking and my heart was going like an elephant that'd slipped its chain. I'd never felt anything like it.
The form in a press box is that you don't celebrate, you're there to do your bloody job and be neutral. I restricted myself to a few quiet fist pumps as Elliott was dropped, then Dan hit the four to start the last over. All that went right out the window when Elliott hit THAT six, I was up, screaming, thrashing the air with both fists. As was everyone else there. Then I got to type my favourite tweet ever for the @BLACKCAPS: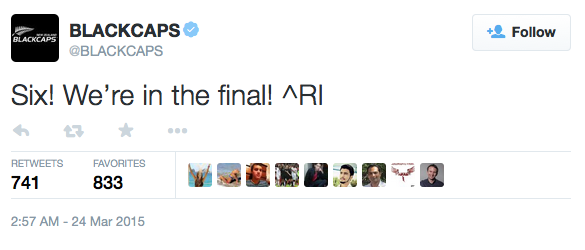 I would have tweeted more at the time, but I was busy with hugs. Apologies to press box traditionalists, I'm sure things will return to normal after this summer.

These guys were out playing and taking photos on the Eden Park pitch about an hour after the Semi Final ended. They got in trouble.

Nerdy trophy photo op.

tweetdeck craziness.
Australia, again.
I got to go to the final. I was there to do some filming for our website, and was lucky enough to be with the squad for the last couple of day's build up. As always, I was impressed with the way the BLACKCAPS go about things. It was training for the World Cup Final at the world's second greatest cricket stadium, but you could have just as easily been at the Basin or in Hamilton, going by the team's attitude.
My impression is the hard work's been done already and we're just here for finishing touches. Put that down to the hard and meticulous work the coaching team do in the weeks, months and years beforehand. Everyone's (seemingly) relaxed, everyone's carrying on as per normal. There was a pretty epic McCullum v McCullum battle in the nets the day before the match, this is a team that even puts on a show for the people who come to watch them train.

Some handiwork.

Baz and MC chat while Bangladeshi photog Shamsul expertly wanders through, ruining everyone else's shot.
As for the final – we all know what happened hey. The MCG itself really is awe-inspiring, there's simply a wall of people everywhere you look. I have to say, the three balls that Starc bowled McCullum were three of the most electrifying I've ever seen, everyone knew this was our big gun taking on theirs and they were both going for it straight away.
There were moments of hope, before the opposition got control – they played bloody well, in fairness. As for us, it turns out our team are as gracious in defeat as they are in attack – listen to Brendon's press conference post-match, to me it's virtuoso stuff.
Back in January when we beat Sri Lanka at the Basin in the Kane Williamson double ton / record partnership with BJ Watling Test, someone said to me isn't it so fantastic we're excited about Test cricket with the World Cup around the corner? That was true, but I'm hoping there'll be a lot more people getting excited about all things New Zealand Cricket after this tournament. The team and management set out to change the way they played and the way they were perceived after the '45' innings against South Africa back in 2012, and on the back of this summer, I think they got it just right. And there's so much more to come.
This tournament was amazing because of the BLACKCAPS, their play, the way they carried themselves and the way we all got around them on the way to the final, the bloody final. Fair play to all involved in the planning and playing of this campaign, winning the final against a very hard-nosed outfit in their backyard aside, which would have been the fairy tale to end all fairy tales, we did fantastic. I hope you've got it all kept on your MySKY, this summer is worth a few replays.
This is the most successful ODI team NZ has ever had. In so many ways.

My view for the final.

Cool '92 display deep in the bowels of the 'G.

Some dork in the MCG. Photo credit: T Boult.
*The Eden Park outdoor press box was the most magnificent press box I'd ever sat in in all my time in cricket. Up in the gods you've got the whole ground laid out in front of you from almost directly behind the bowler's arm. I took in two of the most amazing games I've ever seen, in any sport, from up there. It was a bloody privilege to be there.
My view.