There was a time in New Zealand when you simply didn't wear an All Blacks jersey, because you hadn't played for them. It was one of those charmingly hard-nosed NZ rugby traditions of days gone by, like supporting the team without being ordered to by a sponsor, and turning up to watch matches in stadiums.
But now, three weeks out from the Big Fucking Tournament, we're bitching about buying stuff. Every New Zealander's god-given right to load the kids into the car, drive them to the mall, spend the day wandering about aimlessly before slamming a set of All Blacks jerseys on the credit card and eating McDonalds in the car, is in jeopardy. adidas are public enemy numero uno, gouging the nation and receiving the patented John Campbell invasion-of-body-space INTERVIEW TECHNIQUE he reserves for SCUMBAGS like Mark Hotchin.
Still, at least we're all PR experts now. Where once we talked about line out throws and the make up of the back three, now we sit on our couches discussing sporting executives' crisis communication techniques. On the face of it, adidas have been impressively evil, RAPING hard working Kiwis' wallets, blocking online jersey orders and cancelling supporter parties left, right and centre. But this 'investing in grass-roots rugby' line – it's true. adidas are NZ rugby's main backers – the NZRFU is deep in debt, trying to run rugby and hang on to our players in the face of overseas cash. If adidas pulled out of NZ, there would be a real scramble in recessionary times to find a replacement – with respect, do you think Canterbury of NZ could match adidas' cash?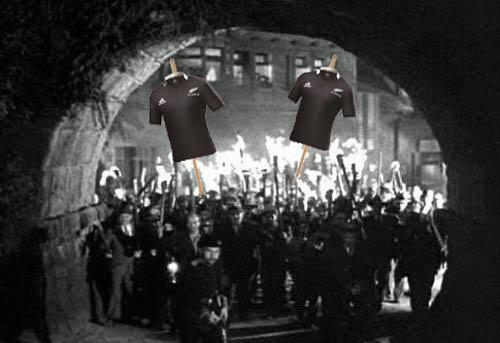 A group of Kiwi rugby fans queue at the local Rebel Sport
Who knows – maybe this is all a shadowy PR plan to unite the country before the world cup. NZFRU and adidas collude to play villain in the week without an All Blacks tri-nation test, the country rises as one to bond through bitching and moaning, before the Briscoes Lady appears on all channels at 6.23 PM to announce a price drop and refund and we turn our attention to bringing the cup home.The NZRFU gets a united country, while adidas take a brief PR hit, before resuming being a massive fucking multinational that makes shitloads of cash with a number of teams.
So – wear an old jersey, buy a new one and burn it, make an indignant Facebook page. It won't make any difference and anyway – no-one is holding a stapler to your head and forcing you to buy one. As @hadyngreen points out, you'll have to wear it underneath a jacket at the game anyway. As you were.
As for the rugby itself (remember that?), it went pretty bloody well, with Quade Cooper paying a one man tribute to Carlos Spencer's patented 'getting found out under pressure' moves at Carlos' home ground. The main talking point seemed to be queueing for trains. It's only right of course, that we can all walk straight out of major sporting events into an empty train, maintained at the perfect temperature, without waiting in a queue, that drops us off to our place of residence, via a quick trip to the drive through. Ahem. Maybe our overseas visitors, who are used to waiting in queues for rugby, football and public transport can provide some perspective when they get here. It went very smoothly, from what I can see – let's get on with it.