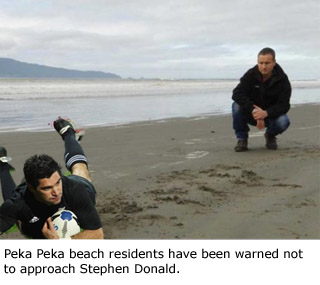 NEWSDESK: Former All Black Stephen Donald has made himself at home on a Kapiti Coast beach. Donald, who was dropped from the All Black training squad this week, was discovered by Peka Peka Beach resident Gladys Coronation, who was out walking her dogs. "I thought I was seeing things, it's pretty unusual to see an All Black in this neck of the woods. He seems content, but he's just… sitting there."
Coronation contacted the Department of Conservation, who are advising that people should remain at least ten metres away from Stephen Donald at all times, and that dogs should be kept on a leash. "Donald could deliver a vicious peck if he feels threatened. Best case scenario is that he eventually swims back out to sea," said a DOC spokesperson.
The residents of Peka Peka beach have taken Stephen Donald into their hearts, and are taking it in turns to stand guard. "I'd love to throw a blanket on him and say 'Just forget about fucking up in Hong Kong, bro' but you have to let him be. You just have to let him be," said local hardcase Gavin McEyebrow.
Some residents were concerned about Donald's well-being and wanted DOC to intervene – the DOC spokesperson said staff were investigating long-term intervention plans if needed, but there was not a lot they could do. "There are no facilities in New Zealand that can care for Stephen Donald long term."
The only other recording of an All Black living on a beach in New Zealand was Alan Hewson's stint living at Southland's Oreti Beach in 1985.