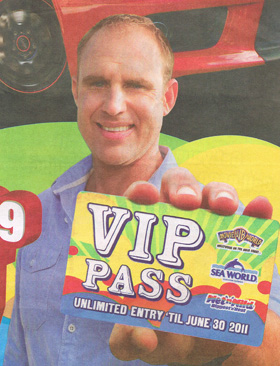 In today's Sunday paper, retired Australian opening batsman Matthew Hayden appears, endorsing VIP passes to Gold Coast theme parks. Hayden, famous for hosting weird BBQs in Regents Park like a homeless person and bullying Englishmen and Glen McGrath is one of cricket's least loved players and a curious choice to sell anything to New Zealanders. Myself, I considered setting myself alight to prevent me even thinking about buying one of these VIP passes.
This will not stand. We cannot allow shitheels like Hayden to appear in our papers, unless it's underneath 'Australian ex-cricketer in punch in the face tragedy' headlines or the like. There is no reason why Kyle Mills, say, couldn't hold a card and look gormless to endorse this card.
So – Photoshop competition. Fire up your favorite image editing app (If you don't have Photoshop, Pixlr.com is handy, or even MS Paint will do – sportreview.net.nz is no stranger to lo-tech, as regular readers will know) and get your entry in by 6pm NZ time, Sunday 8 August.
Here's what you need to get underway:
– Original scan (jpeg, 183KB)
– Clear cut with blacked out sign (gif, 83KB)
Email your entry in either jpeg or gif format (ideally 500 pixels wide) to richard (at) sportreview dot net dot nz. You can also email me for the .PSD file of the above picture if you promise not to laugh at my pathetic photoshop skillz.
Points will be awarded for 1. being funny and 2. making Hayden look like a twat. See the entries after the jump…
The winner will get my copy of the Sports Cafe 'What Were They Thinking" DVD, notable for the Marc Ellis v Zinzan Brooke parallel parking competition. Here's the only reference I could find online, and it's a scathing review. Ah har. So, not a very good prize then, but I *may* find something else to throw in during the week, or even throw a Moro bar in the courier bag, a real one, to sweeten the deal. It's all about Photoshop, and  glory, after all.
I'll publish a selection of the best entries here – good luck. Here's a couple of mine to get us underway.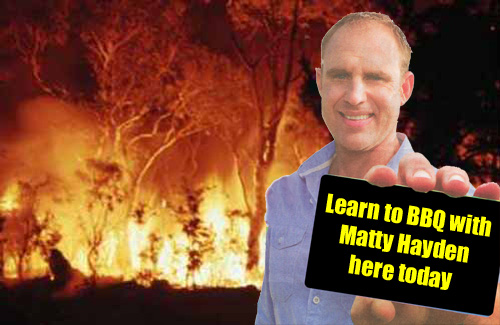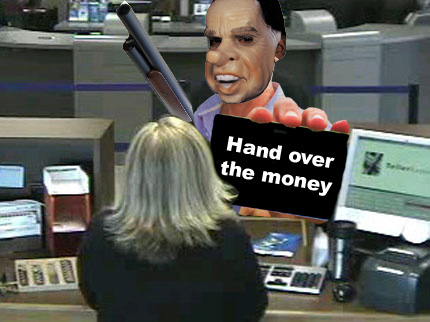 First entry is in from @Naly_D of the Dropkicks – can you do better?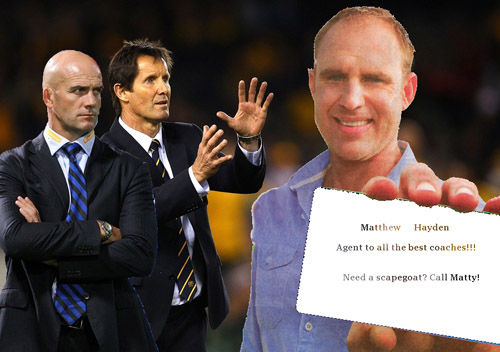 Here's one from Subash of The Cricket Couch, who has an excellent pic of James Anderson and a donkey on his site:
JRod from Cricket With Balls *wants* the DVD, making me question his judgement and sobriety.

Hadyn Green of Public Address says 'I told you I was shit'. Chin up chap, I've done worse.
Very strong entry from AntsGardiner – does anyone else think he's starting to look like Jacob Oram?