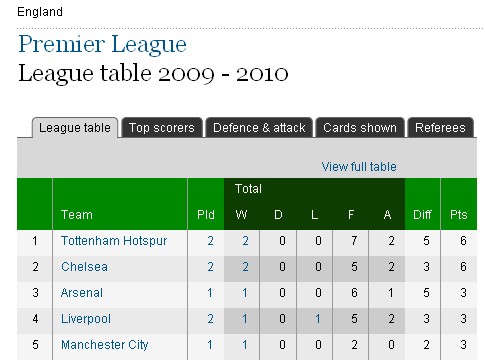 Can't let this morning's league table go by without a mention; following Saturday's surprisingly comfortable win over Liverpool, Spurs beat Hull 5-1 this morning to go top of the table.
Not getting too carried away at this stage, putting away mid table battlers is just what professional sides do (as I emailed my Liverpool fan friend this morning), but we're looking good. Ledley's not injured yet, Defoe's in hot form and Palacios may be the midfield enforcer we've needed since about 1985.
In other news, ESPN's Bill Simmons is claiming credit for the early season form – read his typically thorough post on choosing Tottenham. Bill famously supports the Boston Red Sox, another team who torture their fans by over promising and under delivering on the glory. Let's hope the Sox's recent World Series win is a good omen for Spurs.