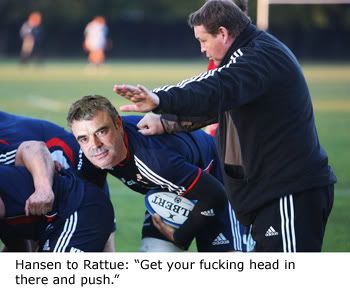 NEWSDESK: In an unexpected move, outspoken New Zealand Herald writer Chris Rattue has been selected at Number 8 for the first test against France.
After spitting out his Weet Bix while reading Rattue's article "Worst All Black side of modern era", Graham Henry got on the phone. "We see Chris as quality cover for our injury crisis. I'd also love to see the look on that desk jockey's face when Chabal gets hold of him."
The journalist, one of the current All Black coaching staff's harshest critics, learned of his call up while out shopping at a K Road bakery and fried chicken outlet.
"I took the call on the mobile, and thought it was one of the boys having me on – I wound up telling Graham to 'piss up a rope, fuckstick!' He saw the funny side after ringing me back."
At a particularly awkward press conference, Rattue highlighted his Rugby career, consisting mainly of a local First XV wrecking his parents' house during a party one time. He did share detail of his recent training regime, made up of walking, not driving, the 150m to the video shop.