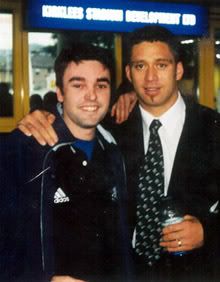 Ever met a famous sportsperson? Got a funny story about it or a photo? sportreview.net.nz's new project is Stalkipedia – a community chronicle of sporting stalking.
I want your stories and your photos – the more stalks we capture, the more fun it'll be.
You get BIG bonus points for a photo! That's me on the right with Glen Osbourne – no great story, he was most accommodating to have his photo taken with someone that drunk. Most interesting thing – CHECK OUT THE SIZE OF HIS HAND!
All the details are over on the Stalkipedia page.  Anyway, here's a proper story to start off – the time I met Colin Meads.
Target: Colin Meads.
Stalker: Richard, sportreview.net.nz
When: 2002
Where: Muddy Farmer pub, downtown Auckland. The loo, to be precise
Details: I was having a few quiets late one Friday night, when I spied an array of then-All Black coaches and administrators regularly wobbling past our table. John Mitchell. Jock Hobbs. Colin Meads. The Hurricanes had played the Blues that night at Eden Park, and those guys were getting stuck in.
I kind of forgot all about them until I went for a slash and came around the corner into the urinals and nearly bounced off this man-mountain coming the other way. I looked up and saw the most tremendous eyebrows. I can't stress this point enough – as someone often accused of being well brow-endowed, I was impressed. Colin makes Graham Henry look like Kate Moss. The brows belonged to non other than Colin Meads, the man, the legend, etc. He was bloody huge. I had to say something.
Me – "Can I shake your hand?"
Colin Meads – "OK"
*shakes hand*
Me – "Having a big night?"
Colin Meads – "Big night… *significant pause* ….ah ha. Biiiiiiiig night."
And that's it. I doubt he'd remember me. On reflection, I'd have preferred to meet our greatest in somewhere other than a pub toilet. Still, you have to seize the day, right?

Update: the first stalk is in! Mark encountered foul-tempered ex-Chelsea striker Jimmy Floyd Hasselbaink in Cardiff. Read all about it on Stalkipedia.