2015 was all about heroes, wasn't it. The cricket! The rugby! Bloody hell we are spoiled. Kiss my arse 2007, here's sportreview.net.nz's year in review.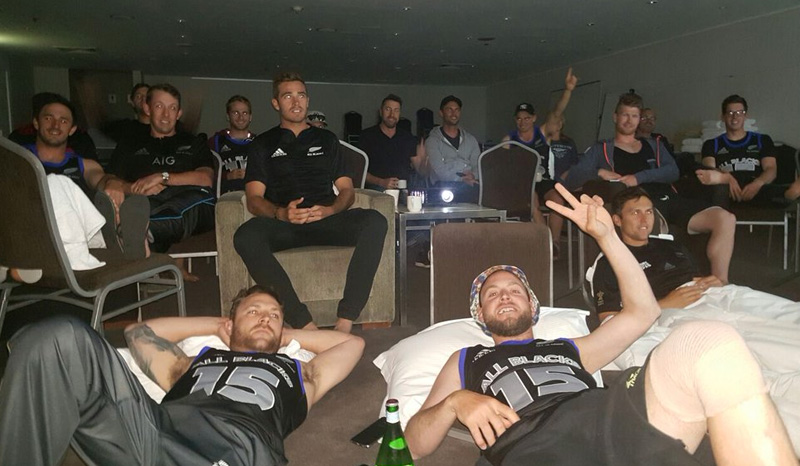 The rugby
At half time in the final, I caught myself thinking 'so this is what it's like to feel comfortable in a RWC final. That was obviously a total amateur move as Australia roared back at us, as they were always going to do, but it worked out OK. It only took about three weeks before I got Grant Nisbett screaming 'BEAUDEN BARRETT' out of my head.
After the slow start, the tournament was an absolute ripper, with France (casual, stylish demolition), South Africa (three-weeks-on-an-all-burrito-diet-level-squeaky-bum-time) and Australia (DAN CARTER REDEMPTION) beaten and now becoming one warm memory of nerves, early starts and triumph. New Zealand was great, generally with everyone good-naturedly panicking together in our lounges, the pubs and on Twitter.
With all those greats retiring there's a lot of holes to fill, and next year's Super Rugby will be loads of fun as Twitter attempts to find replacements. Of course all this year's feel-goodery will be gone pretty much 15 minutes into a scratchy start against Wales, but that's all part of the fun innit.
Elsewhere, the Highlanders took the Super Rugby title in style, denying the poor old Hurricanes a title – this was as brilliant for the southerners as it was devastating for the 'canes fans, who must take a fair amount of gut wrenching anguish with their razzle dazzle.
And we lost Jonah and Jerry and Norm. While not technically immortal, All Blacks are meant to live to ripe old ages in this country, so this didn't seem possible, or indeed fair.
The cricket 

Like Sanjay said on Twitter the other day, most days this year I've been dreaming of Grant Elliott hitting that six and berserk-ing his bat around so violently I was afraid Dan Vettori would be injured before the final.
The achievement is no less remarkable a few months later. I mean shit, we had:
A double century in a quarter final
The top wicket taker in the tournament, a guy who everyone thought was too Test-orientated to be picked a few months out
The best captain, who broke the world's scariest bowler in the semi final
A bowling spell of 7 wickets that dismantled the game's inventors and had everyone annoyed we even had to have a tea break
Nerves of steel at crunch time, against Australia and South Africa in particular
This was the year when 400 became the new 300 and while we lost the series to England, I don't think ODI cricket is ever going to be the same. Stephen Fleming used to talk about advancing a Test, we have just advanced the sport. And done it without being dicks.
OK, so we missed the chance to win at Lord's this year and went down to Australia in the long anticipated series, showing how hard it is to keep getting results in international cricket, especially away from home. The consistent thing is the tremendous fight and ability to claw ourselves back into games we showed against India last year and Sri Lanka earlier this year, as we fought back into the Australian series. Of course we're going to have to do it without B Mac from next year, but all the pieces are in place to succeed – we've given ourselves every chance to keep doing things no other NZ team has done before.
Balls, inspector
I liked the pink ball Test, but there's a few things to fix, the main one being the lolly hour in the last session where a side slogging in the field all day suddenly gets a rocket up their bum and wickets start tumbling. In the big bat era, anything that gives the bowlers a boost is welcome, but it needs to be available throughout the day/s, not just the last hour.
Still, the big crowds and TV audiences will be what counts most for those making the decisions, so expect pink balls on show at Seddon Park or Hagley sometime soon.
Hug it out
You can draw many parallels between the BLACKCAPS and the All Blacks' cultures. Basically, the winning formula seems to be:
A derring-do captain that people listen to when they speak
A coach who lets players get on with it and backs players with extended runs in the team. But can be steely when required. And top support staff
A desire to win, and in style
Team culture that's a open, supportive and even a little bit new age-y, for New Zealand
You can do a lot if you're free to do what you do best. This game, when Luke Ronchi and Grant Elliott came together at 93-5 and walked off with a total of 360 sticks in the mind – you'd expect a limp to 170 from there, but instead we got a punishing, giddy counter attack. Same for That Cardiff Quarterfinal, history be damned, we wasted them.
The potential common thread here is the High Performance Sport NZ accelerator coaching course Mike Hesson and Steve Hansen took together in 2009 – this is some super work from HPSNZ, hopefully fellow course attendee Janine Southby can work the same trick.
Playing again
I am a cricket player again, for the first time in roughly twelve years. Our team, Mairangi Vice, is not troubling the upper reaches of the Bays Big Bash but geez it's a lot of fun. It's fair to say the spirit is more willing than the flesh  with more injuries than Darren Anderton among the team, but that old feeling of the ball coming out of the middle or getting one to shape away is familiar, welcome and hard to beat. The body will get a good rest over the break (ahem) and we'll be back into it next year.


Buying all the gear was fun too.
The football
Tottenham fans are in that 'can we actually get excited now?' phase – yes we have a manager with vision, all these young players looking right at home and we're getting results, but we've been burned before. Personally I wouldn't be too upset about a Europa League exit to give us a decent run at the champions league spots / the league. The Internet came up with the too-clever insult 'Spursy' this year, which I found kind of devastating. Let's hope we're not Spursy for once.
sportreview most read posts
Elsewhere
This year I enjoyed spending more family time, had a career change and didn't write on this blog very much. Ahem. The book I enjoyed the most was The Goldfinch, and I'm astonished by the quality and quantity coming from Duncan's The Spinoff. The songs I listened to the most were (Dad rock alert!) Steely Dan's Dirty Work and Reelin' In The Years (the solo!) and Over And Over by Fleetwood Mac, whose concert was ace.
Promise to write more next year team, hope you enjoyed what there was and thanks for reading. Hope you get a nice break and all your eating, drinking and doing feck-all needs are well fulfilled.