Check out this clip at 1'50 – that's Hayden Roulston's arse. He had a bad fall on the cobbles during the weekend's Paris-Roubaix race and Did Not Finish.
The clip gives you a good idea of Paris-Roubaix, or The Hell Of The North's fairly frickin insane racing style – when it rains, you get a kind of Mad Max / muddy Galstonbury raver hybrid on bikes. Riders have to cope with several cobbled sections, guaranteed to shake bikes and riders' fillings loose. This prompts much discussion on modifying sleek road machines to take cobble-related punishment.
Further Hayden Roulston arse coverage from the Belgium Knee Warmers blog: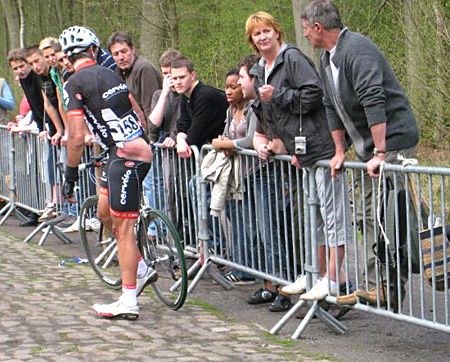 No-one knows quite where to look, eh?