Britain's David Millar (here he is talking to Rough Ride's Paul Kimmage) may have placed third in this morning's time trial, but he definitely takes the cake in bike design – here's his time trial machine, complete with Union Jack wheels to match his British TT champion's jersey.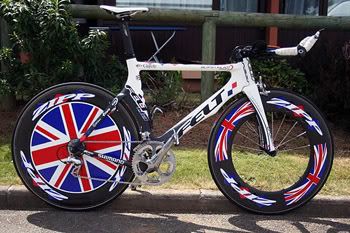 You might look like a dork riding to work in gear that matches your bike, but hey, if you're in the Tour De France you can get away with this shit.
Not so sure 'bout the socks, however.