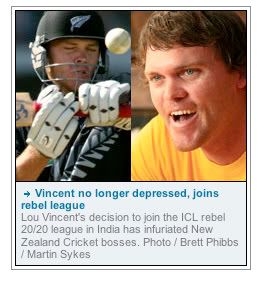 This was the Herald's homepage this evening. I reckon Herald Staff have been:
A. Unfair with their choice of photos. Vincent's batting with his eyes shut in one, and has this kind of "LOL! loadsa money Lou!!!!" look in the other. And…
B. Presumptuous to say he's declared himself cured of depression. There's no comment from Vincent or representative here at all.
OK, so taking the money and running is not a good look after much publicised mental health issues (it's a shame he won't play for New Zealand), but still. This story just doesn't feel right to me – I thought it was one of mine at first.