---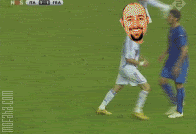 Matt Gunn has shared his thoughts on my article on Radio Sport. Apparently he'd like to headbutt me!
Now violence doesn't solve anything – but if you'd like a headbutt from Matt, leave your name in the comments.
So yeah, my name's Richard Irvine, Matt, and I was trying to be constructive! Rebuttal here.