The biggest villain in NZ sport isn't Eden Park hot dogs or Stephen Jones' Twitter account. Not since we turned on that stupid Tiger Woods for the way he treated the always-cheerful Stevie Williams has NZ been as united in its scorn for an athlete. Office prophets of doom around the country who'd put the boot into Adams like they were starting a troublesome motorcycle, immediately got in behind Adams and turned their scorn-lasers on Ostapchuk.
sportreview.net.nz guide to things Kiwis have compared Nadzeya Ostapchuk to: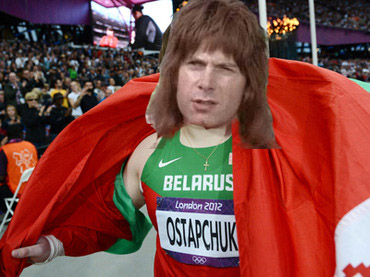 Spinal Tap's Nigel Tufnel (h/t Public Address)
 A very masculine man.
 A fridge / freezer unit.
The situation now is that Ostapchuk has gone totally troppo in Belarus, refusing to hand over the medal and alleging Adams is 'totally' on drugs. NZ's sporting media were quick to move from their previous 'reporting the news' responsibilities to 'defending Valerie's honour' responsibilities, labelling the accusations a 'pack of lies' and labelling Ostapchuk 'troppo' so that Adams didn't have to. Adams' '4 more yrs lol' texts to Ostapchuk went largely unreported.
In the national game, Steve 'sleepy' Hansen faced off against Robbie 'no mates' Deans for the first time in the opening Bledisloe. Deans is as popular as jandal snot in Australia for his coaching 'record' in Australia, making a list of All Blacks Australians love to hate. In fairness to Robbie, 'rugby public hating the national coach' has always been a key factor in New Zealand rugby, so he appears to be on the right track. On Saturday's performance, Deans has lured the rusty All Blacks into a false sense of security of full blanket, milo and Coro levels. If Robbie was hoping to turn the tables on NZ at world cup time, he obviously missed the memo that tournament took place last year, and you have to question the advice he's getting.