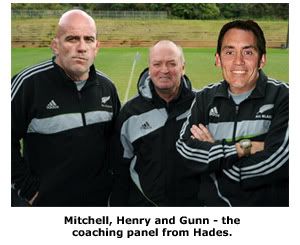 NEWSDESK: NZRFU CEO Steve Tew warned today that continued criticism of the All Black coaching panel could see Wayne Smith and Steve Hansen's roles taken up  by former All Black head coach John Mitchell and grinning twat Jason Gunn.
At a tense press conference, Tew said that assembled press needed to "watch it", and that he was "this close" to  appointing the indecipherable, unpopular Mitchell to coach the All Black pack, while Dancing With The Stars co-host Gunn would oversee the backline, with Thingee joining as kicking coach in a package deal.
Tew said the NZRFU had considered this approach in the past. "We had a long look at bringing in Earle Kirton and the ZM Morning Crew after 2007, a long look," said Tew. "We saved you ungrateful fucks two years of post match analysis with Polly and Grant." A clearly tired and emotional Tew then challenged reporters to "Test me! Go on, test me! Do you WANT Mitch and Jase the Ace?" before being lead hurriedly away by NZRFU communications staff.
All Black coach Laurie Mains was quick to question Gunn's coaching credentials; "I mean, I enjoy a Milo and Dancing With The Stars as much as the next man (Paul Holmes was very good, wasn't he?), but I'd question Jason's experience at the top level. Maybe if he came up through the Heartland comp or spent some time in the Currie Cup, they'd love him over there."
The move is not without precedent; innovative coach Clive Woodward trialled Barry from Eastenders as defensive coordinator early in his regime and the New South Wales Warratahs have recruited Aussie party teenager Corey Delaney as head coach for next years' Super 14.