England's Golden Generation's peak lasted about fifteen minutes, from when Micheal Owen, 12, ran through the Argentinean defense to when David Beckham tried to kick Simeone in the nuts. He missed.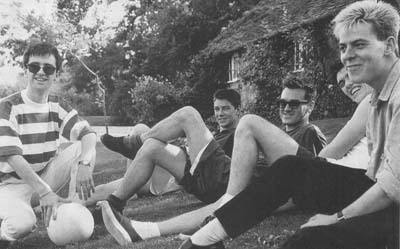 England's previous Golden Generation turned to custard when the successful vox-drums-bass-guitar formation was changed to a more European vox-drums-bass-guitar-guitar line up, resulting in an early exit from Glastonbury in the semi finals
Instead of, you know, developing young talented players and nurturing them until they were ready to win World Cups and that, England (who probably should have just built a team around Matt le Tissier) instead decided they'd just pinch the Man U youth academy and call it a Golden Generation.

David Beckham, Paul Scholes, Michael Owen, Steven Gerrard, Rio Ferdiand and, erm, Gary Neville (unluckily, Ryan Giggs, who would have been handy, was given suspect directions to a Welsh training camp as a youth) were going to take on the world and show 'em that Tel and Baz England hadn't forgotten how to beat them foreigners at their own game. Or something. All they needed was a manager. That's where it gets complicated.
First, England tried an English manager. Big mistake. Glenn Hoddle was like a swan on meth, elegant and stylish from a distance, but the closer you got, the more likely he was to bite your nose and fling shit at you. Kevin Keegan was fantastic at geeing the lads up, but hopeless at tactics, selection, media management, winning games, being generally coherent, brushing his hair and riding a bike. Steve McLaren was like teeth perched on a pair of legs. None of them, with the exception of Hoddle's early days, none were much chop at managing football teams.
Then, seduced by the continent like an London businessman tipsy at a Parisian working lunch, England turned to foreign managers. Big mistake.

First there was Sven-Goran Ericksson, who has somehow managed some of the biggest clubs in Europe without anyone being able to ascertain if he's actually any good. Strangely, his 'biggest feats as England manager' wikipedia section omits shagging Ulrika Johnson. Sven spent most of his time in the hot seat shagging, making incomprehensible statements and giving the Golden Generation a sense of entitlement to rival David Beckham's hairdresser. His 2006 world cup team were outplayed by their own WAGs, and Sven was out of a job.
Fabio Capello, despite a CV rammed with titles and Champions League trophies, had issues learning the language, and the culture. Seeing his players crowded around a telly willing Susan Boyle to a Britain's Got Talent title and playing as themselves on the XBox was hard to take for this proud, sophisticated and urbane man. His squad's obsession with the goings on in a boring Manchester pub boiled over in South Africa, as this extraordinary video reveals:
England's Golden Generation now lies in ruins, like Cesar's Rome, Mountbatten's India or McCartney's Wings. Despite dominating the Champions League and the tabloid headlines with their clubs, this gilded group never gelled for their country. And as the next generation coming though seems more interested in fucking about with their phones and threatening each other with knives, they may need a hero from down under.