In the last two weeks, while sportreview.net.nz has had its cyber thumb wedged firmly in its virtual arse, we've had a World Cup final, dramatic scenes on bikes in the French Alps and the Pyrenees and the All Blacks have treated the Springboks like Frodo treated the Cuba Street fountains.
Like the 1995 All Blacks, who made the tragic mistake of going to a dodgy seafood restaurant the night before their South African final and contracting mass food poisoning in the process, Holland made the tragic mistake of going to see the Karate Kid remake and contracting a bad case of Wanting To Kick The Shit Out Of Everything Syndrome. WTKTSOOES severely reduces your ability to play football, and your ability to think clearly – Mark Van Bommell was found ten minutes before kick off attempting to Kick The Shit Out Of a soft drink vending machine in the players' tunnel, while Wes Sneijder wanted to Kick The Shit Out Of himself, and it took several men to pull him off himself.
Arjen Robben is so crippled by Wanting To Kick The Shit Out Of Everything Syndrome, he is still on the pitch at Soccer City trying to decide between kicking the shit out of Nelson Mandela or a puppy.
Meanwhile, Spain's tactical approach was kind of like inviting the girl of your dreams on a date to play Spirograph – sure, you're going to make a lot of pretty patterns, but you're not doing your chances of scoring any favors.
Looking back, this World Cup will be remembered as one of the most football-free World Cups ever. Between the vuvuzelas, the ball dodgier than a three week old boiled egg and the fucking octopus, there wasn't a lot of *actual* kick-ball-score-goal-football to talk about. All the big European stars looked like they'd rather be in Ibiza or Hello Magazine and couldn't wait to get the first plane out of the biggest sporting event they'll likely play in. At least the French had the style to flounce the fuck out of Dodge with a bit of flair. As Sione Lauaki says about the days he could beat people up without ending up in the paper, things aren't what they used to be. Roll on the blooming Champions League already.
Back home, the All Blacks provided one of the biggest sporting surprises since the Dean Lonergan's apparent absence of permanent brain damage by beating the World Champion Springboks not once but twice. The results shook people who make their living by thinking of things to say on telly for the half hour before test matches start to the core, and has seen a complete 180 degree re-alignment of the games' top two powerhouses. With two defeats first up, South Africa fine themselves in a situation stickier than Shane Jones' iPad.
The All Blacks now have 'bragging rights' which, in the modern era, takes place mainly on social networking sites: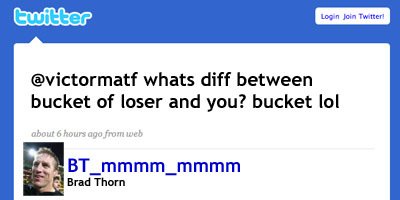 The All Blacks' decision to employ online coaches (Conrad Smith appears at 44 seconds) to maximise their 'bragging rights' has been hailed as genius, and is sparking talk the All Blacks could go fully viral in time for the 2001 cup. There hasn't been this much All Black noise online since Grizz Wylie had too much scotch at his Marlborough crib and made an anonymous reverse charges abusive toll call to John Hart in the summer of 1994.

Meanwhile, the Australians, already regarded as outsiders for this year's Tri-Nations, have no 'bragging rights' whatsoever, nor 'skillz' or 'cred' 'online' and are playing 'catch-up tweeting' before clearing a single nostril on the field: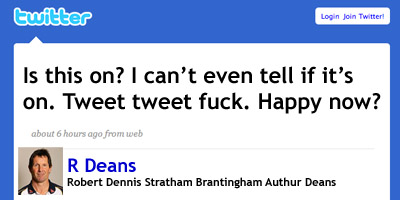 In Europe, the Tour De France has had cobbles, slick roads, crashes and more dastardly moves than Winston Peters sorting out his minibar bill. People everywhere are talking about Alberto Contdor's sneaky maneuver around Andy Schleck while his chain was half way down the mountain, a move that went completely against the unwritten rules of the sport. Sport is full of unwritten rules, as outlined below:
Tennis – at Wimbledon, don't look Cliff Richard in the eye. Just keep walking, bro
Rugby League – NSW players only shit in Queensland hotel corridors, and vice versa
Lawn bowls – throwing bowls at the ref is frowned upon, generally
American Football – players must whoop at least 33 times for each completed first down
Knitting – I see that Maureen bitch brought that yappy fucking dog again
Netball – no elbows above the neckline
Luckily for cycling fans everywhere, there's always Jens Voigt, who manfully took one for the team by falling off his bike. A Jens Voigt faceplant from his bicycle brings the sporting world together like only an Australian cricket test series defeat or Colin Montgomerie looking cross can. Voigt's selfless act, and determination to cycle to Paris like a callous circus freakshow, dragging his useless, useless legs behind him has warmed the hearts of sports fans everywhere. Vive le Tour!