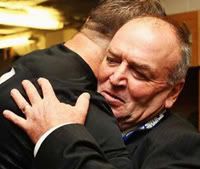 NEWSDESK: The NZRFU announced today the re-appointment of the Graham Henry-led coaching regime until 2037. "We've often been accused of throwing the baby out with the bathwater when it comes to All Black coaching panels. This time we're going to have the wee fella living with Mum and Dad until he's old enough to rifle the liquor cabinet" said NZRFU CEO Steve Tew, before denying he was really, really high.
"I'm very pleased" said Henry, rubbing the leather elbow patches on his blazer, adding "This will give the players, and any of their kids interested in playing Rugby, real certainty".
The All Black marketing machine has already swung into action, announcing a line of Wayne Smith driving gloves, Steve Hanson TV dinner trays and Ted's Big Book Of Sudoku. A potential tie in with Werther's Orignals is in the pipeline.
Radio Sport reported a 83% ratings drop-off around the time of the announcement as the majority of their listenership spontaneously combusted as one. South African media are reporting the re-appointment of Peter De Villliers until 2044 in a flanking manoeuvre.