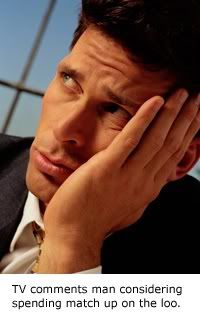 – a TV comments man writes for sportreview.net.nz
Ok, Ok, Ok. Something's wrong, REAL wrong. It's going to be pretty frickin' hard for me to do my job here. I just can't see any way this struggle is going to be massive, classic or bruising.
It's a mid table clash – no-one's going up, no-one's going down, literally nothing is riding on the result. There's no match-ups for representative honors, or scores to settle. This isn't going to be an arm wrestle, the cocking players are warming up like they're going to ENJOY THEMSELVES out there. Whoop-de-fuck, get the monopoly board out.
I might as well head home and clear the bottles out of my bed.
I mean, it's Super Shitting Sunday. The crowd expect some bone crunching action, and yet, it looks as exciting as nine hours in Rotorua International's transit lounge. I've done it, I know.
The coaches? Those fuck-knuckles have a – get this – mutual professional respect. Fuck it. There's been no outbursts, no slagging, no argument over who's the underdog. Come ON! I was *this close* to shitting in a bag and cycle couriering to the dugout, let me tell you. That would have mixed things up a bit.
So fucked.
I'm not seeing a range of options here. If this struggle isn't going to be titanic, that means I've showered for NOTHING. I even got ClearEyes from the night chemist on the way home last night. If anyone wants to cock punch a prop and blame it on the opponent's full back, I've got some Sky City chips up here for ya.
Ah fuck it, what's the point? This match is going to be as much fun as my engagement. Let's just do a bomb threat and head to the Cossie, they'll be cranking on a Sunday. Can anyone do an Irish accent?