Today Tiger Woods AXED long time caddie and New Zealand's greatest athlete Steve Williams in a business like statement on his website. Williams has given this country some of its proudest sporting moments, carrying Tiger's shit through some of the world's greatest golf tournaments, making him go to Huntly and throwing an American 'get in the hole' dickhead's $7000 camera in a lake one time.
The AXING is a tragedy for New Zealand's reflected glory everywhere – no longer will Kiwi dads be able to tell their sons "That guy winning the golf tournament? That guy next to him carrying his shit is a Kiwi, son." Williams was an inspirational figure for personally taking responsibility for making sure Tiger knew New Zealand existed, and showed that coming from a tiny South Pacific island nation was no barrier to growing an ego the size of Megashark. Tragically, in the post-Williams era, young New Zealander's best chance of reflected glory will be finding another Shrek The Sheep.
In other news, the All Blacks will line up against Fiji this Friday night in Dunedin. sportreview.net.nz is not clear what's happening on Saturday evening (or Saturday afternoon) to prevent our national team in our national sport playing then, but it must be pretty amazing. Waikato v Auckland with three jousters per team amazing. Paul Henry being denied access to Party Central for wearing black jeans live on air amazing. Boxing featuring Sonny Bill Williams and Norma Plummer amazing.
At least we're underway – the All Blacks squad and team is as expected, with Jared Hoeata coming in, and your Slades and Williams getting a run against Fiji, which is only right. The Crusaders players need to get their airline-weary feet up. If we were thinking straight, the only games to work ourselves to yelling at the TV over will occur in a couple of months time, in the quarter, semi and final of the Big Fucking Tournament. But, rest assured, we will yell as one at the sports news, newspaper, 'online' 'sport' 'blogs' (this one especially), ALL the Hurricanes' twitter accounts, pre-match build up and the games themselves as we spiral into a rugby black hole the likes of which has never been seen before. By the time finals week rolls around, Kiwis everywhere will be so wound up about all things rugby, Martin Snedden won't be able to walk the streets without being punched in the face. Guys – take it easy.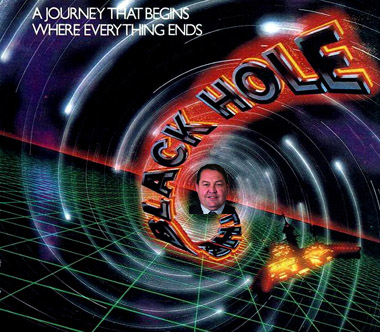 Rugby black hole (artist's impression)
Still, at least we're not aping cretinous fluff from overseas tournaments that divert attention from the sport itself, so that after the final whistle everyone's talking about a sodding cephalopod instead of the match. Oh. Hang on. Unfortunately, while the Herald is crowing about Richie McCow's 'international coverage', the context is along the lines of 'look at what those simpletons downunder are doing now'. The best bit is Richie's owner breezily explaining that Richie'll be off to the freezing works to be slaughtered if he doesn't cut the mustard (geddit) as a rugby pundit. I bet Paul the Octopus would have been fantastic in a bit of beer batter too.