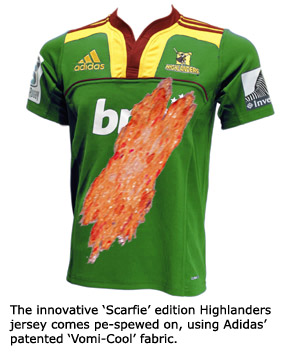 NEWSDESK: Otago Highlanders marketing exec Steve 'Steve' Landrover, who conceptualised changing the famous blue, gold and maroon colours to green, has been instructed to not have any more ideas.
Landrover, who believes Highlanders management "aren't seeing the bigger picture," said "I triangulated this opportunity for literally hours. HOURS. When you factor in the synergies between rugby – which is played on grass, and grass – which is green, it's obvious."
When told about the new green playing strip, which is launching this Friday, Highlanders Chairman Ross Laidlaw commented "fucking WHAT?" before refusing to comment. Otago salwart Laurie Mains is outraged, telling reporters "It's fair to say I'm outraged – I don't even know how outraged I am to be honest, but I'm sure it's going to be pretty fucking outraged. I'll figure it out and get back to you," before hurrumphing weightily several times.
Landrover's plans for 'Bring A Flaming Couch, Get In Half Price', 'Buy One Beer, Get 14 Free' and 'Kids Get Pinecones Covered In Cow Shit day' promotions have been shelved at this stage.