This was a match that truly lived up to the clichés. The Dark Horses, plucky little New Zealand, punching above their weight and making the most of their meagre resources, up against South Africa, the supremely organised team that, faced with a pressure situation, become as effective as wet single ply in the face of a heavy curry house session the night previous. And choke.
The Black Caps showed they were prepared to win ugly; make no mistake, this was an ugly win, possibly up to full Ricky level on the sportreview.net.nz Ugly-ometer: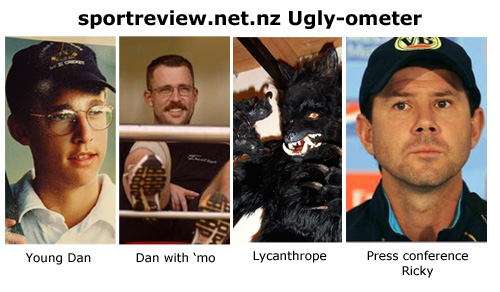 Ugly scales up from L-R
For this match, sportreview.net.nz made the rare effort to actually review some sport, sacrificing time that could have been spent unconscious to stay awake and watch the entire Black Caps innings. Taylor and Ryder played it safe to get us a reasonable total, but traditional one day tactics dictate the  'accumulation' period usually lasts between overs 18 and 35. New Zealand's accumulation period may be still going – it was an innings best described as 'gelatinous', but, on a pitch more dry and dusty than 48 hours in a Koru Lounge with Phil Goff, it would do. Then this happened:
In the cricketing equivalent of that Australian schoolkid chucking that bully about, the Black Caps surrounded Du Plessis, who'd just run out the competent De Villiers like schoolboys around a well worn copy of Playboy to let him know he'd fucked up, if he hadn't worked it out already. The ensuing fracas lead to fines and bad examples for youngsters watching. Let's have a look at the Black Caps' crimes in slow motion:
Stryris and Vettori attempt to manoeuvre Du Plessis into training ground set-piece move 'Black Cap sandwich'. 12th man Kyle Mills, who was just passing by, helpfully offers the South African a drink. Of choke-a-cola.
Du Plessis shoves Mills, in the process setting the game back years in the vital USA market, because nothing looks as 'wussy' as when cricketers fight, not even cyclists. Vettori tries to rescue the situation by telling Du Plessis to use his bat at least.
A garden gnome (in red) tries to restore order.
Styris and Du Plessis are nominated to kiss and make up on behalf of the sides by their captains, and play resumes.
Did the Safas choke? Well, a little bit. Maybe. But, they came up against a New Zealand team that discovered their self belief down the back of the couch, and used it to turn the heat on South Africa like Gordon Ramsay with a knife in each hand and sand in his undies; Stephen Fleming would have been proud.
For choking students, this match closely resembled the All Blacks' loss to France in the 1999 rugby world cup semi final – decent team, handy lead, a few signs of life from the opposition, then folding like a cheap card table. Hard to take for the Proteas and to be honest, Kiwi sports fans should wait for the All Blacks' next world cup performance (which is happening soon I hear) before throwing too much shit their way.
I was very pleased for Jacob Oram, who took some vital wickets and a stonking catch – he showed exactly how much we've missed him over the years, and how people who've criticised his place in the team are cocks.
Like much of the country I imagine, I went to bed after the first innings and awoke to a big surprise, roughly equivalent to a horse's head in the bed. Considering our form going into this tournament, and the stumbles along the way, we can be very pleased with making the semis, especially as we knocked over a proper big team in the quarters to get there. Sri Lanka at home will be tough, but fuck it. Bring it on.
If you've made it this far, here's more quarter final coverage, that's better than what you've just read, to be honest:
The C-word – crucket.co.nz (check out the awesome comment on this post!)
Andy Bull's Guardian sport blog