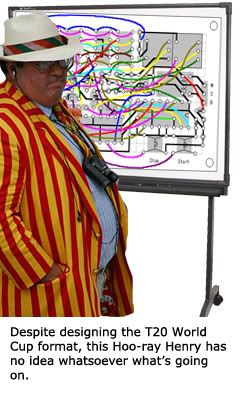 NEWSDESK: Anxious to live up to standards set by 2002 ICC Champion Trophy's 'Super Confused Round' and the 1999 England World Cup's 'Baffle Raffle', the ICC are promising further innovation in the current T20 world championships. 'We're going to make the NRL Finals look like a design classic – we're expect grown men to weep trying to work it out," enthused ICC spokesman Brampton Bender-Brampton.
"We gathered the finest minds the English public school system has produced, put them up in a Sussex Castle-slash-Conference Centre, gave them tea, gin and a whiteboard and left them to it," Bender-Brampton told worried-looking press. "When they came back three weeks later asking for erasable markers and more pornography, we knew we had the right team on the job."
Task Force Shit-Gaggle member Little 'Lord' Chortleroy was struck by the dedication the working group showed whenever they were fully concious. "At one stage we were considering teams qualifying for a 'Prove Who Admires And Respects The Queen The Most' round, to be presided over by Prince Phillip and Rudi Koertzen, but we felt it played England's hands too much. Phillip was frightfully disappointed when we woke him up and broke the news."
For 2010, the West Indies' spread out geography was taken into account to maximise confusion further – "Some teams may even turn up at the wrong venue altogether! As for fans – well, those without a super yacht of their own may well be best off staying home," said Bender-Brampton, as he dodged burning copies of Wisden being lobbed in his direction.
Players are cautiously welcoming the challenging mystery format. "Doesn't matter, mate, I'm still biding my time, waiting to punch either Duckworth or Lewis in the face. I hate those guys," said New Zealand Captain Daniel Vettori.