Our national game is in a crisis of getting-it-stuck-in-the-fly proportions. No NZ team in the Super 14 final, more All Blacks out injured than out on the piss and a beloved ex-All Black stirring up a race war.
Haden in his playing days, when it was 14 moustaches per team – and that's it
Sporting agent Haden, whose stable includes legendary sporting figures like Sale Of the Century's Jude Dobson, talking very loudly's Chris Harder, eating's Peta Mathias and erm, Stu Wilson, blew the lid off the Crusaders' 'manual' with his race-based selection claims. Other sporting manuals around the globe are now living in fear of similar outings, as sportreview.net.nz can exclusively reveal:
Springbok manual – one player on the ground wondering what fresh hell this is and that's it
England manual – one RWC 2011 touring party that should feel right at home and that's it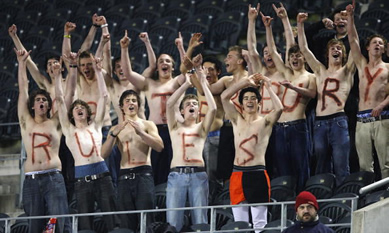 Crusaders manual – fifteen fellas a *bit* too keen to get their kit off and that's it
Co-incidentally, Haden made his controversial comments on a show with a 'three fuck-knuckles per episode – and that's it' policy.
Meanwhile, the All Black injury outbreak is reaching crisis point – in The Good Old Days™, when you could break a full backs' nose without fear of television-enabled-reprisal, Colin Meads played with a broken arm, Grant Batty played with a funny name and one lock even took his place in the lineout while suffering from death.

Modern All Blacks, however, suffer new ailments like "Adidas poisoning', 'Powerade knee', 'Xbox' and 'Bench sickness'. Getting potential All Blacks to play club rugby on Saturday backfired spectacularly, with Luke McAlister and Stephen Donald both going down with 'Soft-cock's elbow'.

Our playing stocks are at breaking point. Long gone are the days when you'd put the cat out and find four or five All Blacks sheltering on your stoop. Efforts to increase playing stocks by releasing All Blacks into lakes and the bush only seem to have made the problem worse.

Add in the fact South Africa has more big, scary players in hot form than Victor Matfield has leg hairs, while Australia has the best coach on the world by far, along with a crop of young players coming of age together and OH MY GOD WE'RE FUCKED, WE"RE TOTALLY TOTALLY FUCKED. In response, Graham Henry drove his vee-dub to an abandoned warehouse, had a beer and a smoke, danced around a bit and named his squad. And it looks pretty good. Relax, people, and that's it.