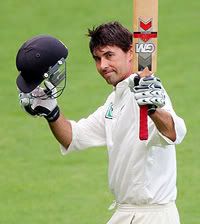 Stephen Fleming loped over the boundary rope for New Zealand for the last time on Tuesday, having secured his test average of 40, and going out as undoubtedly our most successful captain ever, but leaving the sporting public torn. Depending on who you talk to he's either going too early or he should have gone years ago. So which is it? The knockers may want to look away now…
Fleming famously asked Richard Boock to write his biography, after Boock spent the previous year waging a campaign against Fleming's captaincy in the Herald as bizzare as it was savage. This was a typically pagmatic move. The book contains plenty of turmoil under its dreadfully cheesy cover, from Glenn Turner's iron rule prompting Paroroe and Cairns' hissy fit rebellions, the human ego Chris Cairns being in the dressing room generally, the Sri Lankan bombing and NZC's disgraceful insistence the tour go ahead, and Dion Nash, Matthew Bell and Flem being hung out to dry for smoking grass in South Africa when others were involved. It'll be interesting to read his side of the Bracewell era if he publishes another.
He was an atypical New Zealand batsman – graceful, not bludgeoning, preferring to guide the ball to the cover or straight boundary than slogging to cow corner. As the Napier radio commentators never tired of saying, it was typical that in his last test he passed 50 twice but missed out on 100s. I would have liked to see him ride it out for a few more years in the test team without the armband and rack up some big scores, and slyly digging at the opposition as a senior pro. He did this in Hamilton to great effect, hinting the Black Caps were the only team playing cricket going into the final day, helping pile pressure on England like a collector's pin through a bug. We'll miss his catching alright, and I was dying to see where his endorsements would head next, having flogged heat pumps like they were a new religion backed by country and western singers, and wandering Cuba Mall dressed as a giant deodorant can accosting passers-by. It could have only got better.
I was at the Oval in 1999 the day we clinched a test series win in England, it sparked the most productive period of his captaincy, taking in the the ICC trophy win, culminating in summer of 2001, when he toyed with Australia in Australia, knocking them out of their own Tri-Series, and so nearly winning a test series, which would have been the crowning glory.
Fleming was a thinking, pragmatic captain (Cricket with Balls went so far as to describe him as Noam Chomsky-like) and got the best out of the resources he had – this is New Zealand cricket after all, we don't have a county championship to make professionals like England, or teams of potential Bradmans queueing up for their shot like Australia. Fleming was too intelligent, too sure of himself, too graceful in his strokeplay, too willing to say what he thought, and probably too handsome for yer average Kiwi to fully accept. He wasn't the 'gee, shucks' humble bloke we love so much, and he copped it for that. If he'd been born in Sydney or Perth, the Aussies would have loved him.
Links on Flem
Fleming and Macca take to Shane Warne in 2001
The famous Richardson interview
THAT century v South Africa in 2003