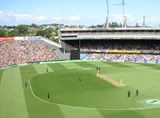 Here's one I prepared earlier at The Aucklandista…
Cricket's a summer bat and ball game invented by England but perfected by the West Indies, India, Pakistan and Australia (boo!). Being English, there's a whole bunch of complicated rules, but they won't concern you when you're deciding if you can still eat a hot dog dropped in a beer. Keen to get involved? There's an FAQ after the jump…
Who's playing, then?
New Zealand and England – for non Cricket fans, a (very laboured) Hollywood analogy would be that England are like Roger Moore – very wooden, with a stiff upper lip, and living on past glories. Star player is Kevin Peiterson, a transplanted South African known for aggressive brilliance with the bat, and being more obsessed with his hairstyle than best mate Shane Warne. He likes a drink, as do most of the England players, there's a good chance you'll see them in the bars of an evening.
New Zealand are like Christopher Walken – great in the 80s, extremely limited in style, but well capable of unexpected brilliance. Star player is Wicketkeeper Brendan McCullum, who is long on creative big hitting but disappointingly, short on drunken scandal. He's a family man.
When are they playing?
There's a 20/20 match on 5 February and a day/night match on 15 February, and they're both at Eden Park, which is in Sandringham. You can get tickets from Ticketek, and suss out transport with Maxx.
What's a 20/20 match?
20/20 is a recent invention that looks to be the games saviour – its condensed format (the match lasts only as long as a rugby match) means there's lots of big hitting without the time commitment. It makes the traditionalists drop their watercress sandwiches in horror, though
the New Zealanders wear those cool beige uniforms
for the Cricket curious, 20/20 is a great option, you're guaranteed excitement and a hyped up crowd, without it taking all day
What's a Day/Night match?
the game lasts around eight hours, starting in the afternoon and going into the evening. Watching Cricket at night is really, really cool
it's a *slightly* more traditional form of Cricket – the format's been around since the mid 70s
if you're lucky, the game will be close. There's few more utterly enthralling spectacles in sport than a Cricket match going down to the wire
What's the deal with Eden Park?
Eden Park has four main stands – here's what to expect
Southern – Auckland Grammar Old Boys abound. Most likely to see men wearing ties here
ASB – New stand with great food and drink facilities, and crucially, a bit of shade further back
Western – Favoured with Cricket purists, due to good view from 'behind the bowler's arm'
Terraces – Hot. Damned hot. Greater potential for being showered with urine-filled bottles during the Mexican wave here than anywhere else. Can be a lot of fun with the right spot and attitude
Corporate Box – SCORE!! If it's a work do, just watch the drinking early, you don't want chew the MD's ear off for three hours about your LOTR figurine collection before vomiting on them
Wherever you sit, logistics are very similar to the Big Day Out. Bring a hat, some sealed bottled water, loads of sunscreen, cash, and if you're smuggling liquor, go old school with the vodka injected watermelon, or get your mum to carry it in.
Where's a good pub to watch the match?
The Kingslander – it's close enough to Eden Park to get a little of the atmosphere, and for sport, the veritable shedload of TVs come into their own, instead of merely fucking up the feng shui.